General information
At 110 kilometers from Minsk in a picturesque location near Slutsk a new farm is located, where exotic for our places birds - ostriches - are breeded. The conditions of South African black ostriches on the farm are amazing: they are able to chase each other, to make overtures, bizarrely dismiss the wings and even fight among themselves. If you are lucky, You will be able to see the marriage dancing of males. Besides ostriches on the farm there are grown domestic, wild and Vietnamese pigs, calves and horses, goats, sheep, rabbits and various birds: chickens, turkeys, ducks, geese, quails, guinea fowl, pheasants, peacocks and even an eagle.
There, in the vast area of the farmstead «Slutsky Straus» a two-storey brick Great guest house is located. On its ground floor there is a cafe, where guests of the farmstead can enjoy not only the ostrich dishes, but also treats of the national Belarusian cuisine. The accomodation is possible in one of six rooms located on the second floor of the house: 4 one-bedroom and 2 two-room, where guests will find everything they need for a comfortable stay - each room is equipped with a toilet, a shower and a TV.
Right next to a large guest house there are 4 equipped arbors, designed for all kinds of companies from 6 to 50 people. Firewood, grills, skewers at arbors rent are provided for free.
There is a possibility for a secluded vacation with family or friends in the guest house, designed for 4 people only. In the first room there is a sleeping area combined with living room, in the second - a double bed. Inside the house there are a WC, a shower, a TV, a gas stove.
The arrangements for feeding by the staff of the farmstead «Slutsky Straus» is possible, either on their own - in the well-equipped kitchen.
Reservoirs
The farmstead «Slutsky Straus» is located at 2 km away from the river Sluch. On the farmstead territory there is a pond with an area of 0.15 hectares.
Foundation year - 2006
The quantity of rooms - 16 beds. additional places
Checkout time

Check-in at: 12:00
check-out at: 12:00
for every 24h

Children are accepted to live any age
Occupied territory - 5.70 he.
Territory security: territory is fenced, guarded by the health resort guard service, equipped with video surveillance system
farmstead Slutsky Straus is situated at the distance of: city Slutsk - 8km ,city Minsk - 104km
Geographical coordinates - 52°58.025' N, 27°36.417' E
The period of operation Slutsky Straus
| Jan | Feb | Mar | Apr | May | Jun | Jul | Aug | Sep | Oct | Nov | Dec |
| --- | --- | --- | --- | --- | --- | --- | --- | --- | --- | --- | --- |
| | | | | | | | | | | | |
Location - farmstead Slutsky Straus:

big guest house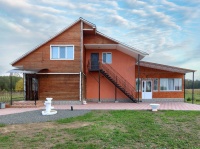 floors: 2
Max people: 12

Watch the video
guest house
floors: 1
Max people: 4

Watch the video
Meals
Kitchen facilities
gas cooker
kettle
refrigerator
tableware
microwave owen
Catering available upon request of holidaymakers